Citrix - HDX Webcam redirection
---
Citrix HDX Webcam redirection allows you to use your webcams in any application on server side. The image is compressed on the client side and sent to the server. From there it goes on to the meeting software and on the same way back again. While this path is universally applicable, it is not necessarily resource efficient.
Whenever possible and available, an appropriate optimization should be used instead of the Citrix HDX webcam redirection.
All available optimizations are based on the principle that the connection to the meeting software is established directly from the client and the detour via the server is saved. The GUI for controlling the software, however, is still executed directly on the server. This achieves optimal performance while conserving server hardware resources.
Setup on the Thin Client
.Citrix HDX Webcam redirection is configured in the ICA Client in the GLOBAL SETTINGS under the heading "Webcam Settings".
Enable HDX Webcam (requires audio input): Enables webcam forwarding (audio input must be enabled).
Enable HDX H264 Input: Enables H264 encoded webcam image transmission. Required for 64bit server applications.
HDX Webcam Resolution (Width): Here you can set the width of the resolution (in pixels) | Default:

352

HDX webcam resolution (height): Here you can set the height of the resolution (in pixels) | Default:

288

HDX webcam frames per second: FPS can be set here | Default:

15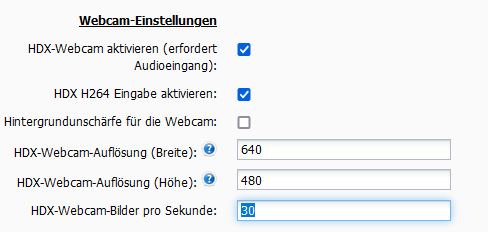 Troubleshooting
Test the camera on the TC
To be able to use the camera for the Citrix HDX Webcam redirection it must first be recognized and used by the client system. This is possible with almost all cameras without any problems and can be done via the comms box under Periphery -> Webcam via the button Test (a program opens on the thin client which displays the current image of the webcam).

Test the camera on server side
Allow Windows to set the camera access permission in the privacy settings.
now open the web page: https://en.webcamtests.com/
a green bar should appear on the web page which shows that a camera has been found (you may have to authorize the browser to access the camera)
now click on "test my camera" (you may need to authorize the browser to access the camera)
your camera picture should now appear
now the camera can be used with any program
Check for 32bit application
Citrix only supported 32bit server applications when using HDX Webcam redirection with Linux clients in previous versions. If the use of the option "Enable HDX H264 input" is not possible for you, the use of the camera is still only possible in 32bit applications.
If you are using a 32 or 64bit application you can find out by using the Task Manager: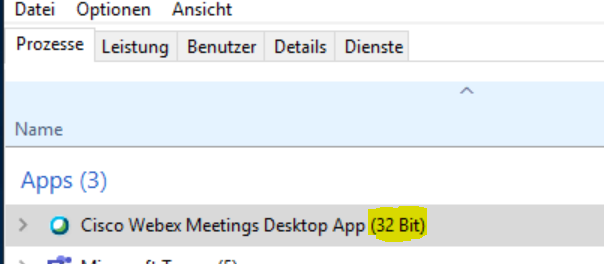 Behind 32Bit applications the task manager always shows "(32 Bit)".